And now, McCain gets the post-convention bounce, which I don't think many were expecting.

But in 3 major polls McCain is up 10, 4, and 3 percentage points.

USATODAY: 4-point lead. An 11-point turnaround!
"The Republicans had a very successful convention and, at least initially, the selection of Sarah Palin has made a big difference," says political scientist Larry Sabato of the University of Virginia. "He's in a far better position than his people imagined he would be in at this point."
ZOGBY: 4-point lead
"Clearly, Palin is helping the McCain ticket. She has high favorability numbers, and has unified the Republican Party. The striking thing here in this poll is that McCain has pulled ahead among Catholics by double-digits."
GALLUP: 3-point lead
McCain's 48% share of the vote ties for his largest since Gallup tracking began in early March. He registered the same level of support in early May. This is also McCain's largest advantage over Obama since early May, when he led by as much as six percentage points. Obama has led McCain for most of the campaign, and for nearly all of the time since clinching the Democratic nomination in early June.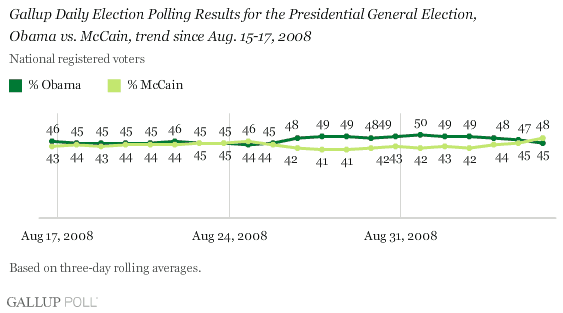 Lots more Pols and Polls here, at
The Pantheon Journal.